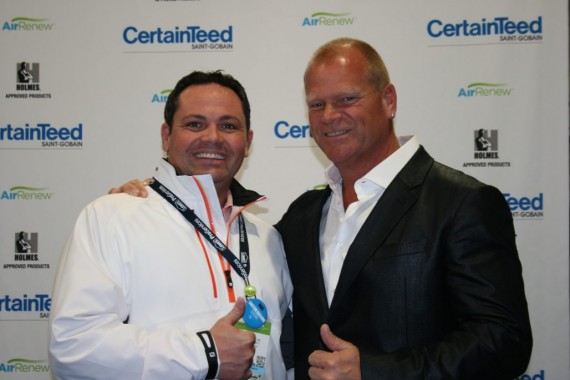 Photo: Tag Gilkeson with Mike Holmes of HGTV's "Holmes on Homes."
As a Certified Green Professional (CGP) Tag Gilkeson knows how to combine cost-effective building science with an ever-expanding selection of products and materials to build a home with sustainability in mind. He is trained to incorporate energy, water and resource efficiency, improving indoor environmental quality while using sustainable and locally sourced products into his projects.
Tag originally got started in the real estate and construction industry in 1999 after he obtained his Texas REALTOR® license. His primary business focus was in investment real estate. From there, it was an easy transition into buying real estate and flipping houses on his own. He has owned several fix & flips and rental properties along the way.
In 2009, Tag turned his attention to gaining more knowledge in his field. He obtained an associate's degree in architecture and a bachelor's degree in construction management. He was ranked in the top three of his class at graduation while also obtaining a personal recommendation from the program chair.
Having gained knowledge and experience in his field, he decided that it was best to give back to the industry by serving as a board member for two years for the North Dallas/Collin County Division.
Since then he has utilized the Dallas BA to obtain knowledge and designations within the industry. At this time, he has five designation recognized by the National Association of Home Builders and one designation that is local to the Dallas BA. These include Certified Graduate Builder (CGB), Certified Graduate Associate (CGA), Certified Green Professional (CGP), Green Sales Professional (GSP), Certified Aging in Place (CAPS) and he is currently working on his Certified Graduate Remodeler (CGR) designation. He will complete the CGR designation at the 2018 IBS show in Orlando.
Tag utilizes these designations on his website, business cards, and on LinkedIn to set himself apart from the competition. "Wouldn't you want the guy that's drawing your plans to know how to build a house?" he stresses. "These designations show that I have invested the time in learning the industry and what it takes to be seen as a professional."
Tag currently owns a design / build firm called Tag & Associates, LLC, where he works with home owners, remodelers and builders drawing full construction plans in 3D. "The 3D drawings allow the builders and the owners to visualize what their new home will look like," he said.
1) How do you market your designation?
I have the logos on the bottom of my website, the back of my business cards, and listed at the end of my name on LinkedIn and social media.
2) What does your designation add to your business?
The Certified Green Professional (CGP) designation has given me credibility among my clients and peers. They know after I share the description of the designations that I take my business and my industry serious. This alone has given me a distinct advantage over other people in the same field.
3) How do your customers respond to your designation?
My clients are always amazed that I have gone to great lengths to set myself apart from others. They realize that it isn't out of ego, but more out of professional business courtesy that I have never stopped learning.
4) Why did you select this designation?
I selected the Certified Green Professional (CGP) designation because I feel that it is the way of the future for our industry. By not building or designing "green" on every house is an advertisement of being irresponsible to our environment, our industry and the children that will one day take over the future.
To learn how you can become a designated professional, contact Dallas BA Director of Education Sheena Beaver at sheena.beaver@dallasbuilders.com. Check out upcoming classes on the course calendar.